Rosa A. Lott Middle School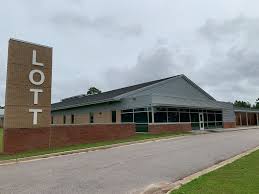 Our mission at Lott Middle School is to promote a safe and positive environment conducive for all students to learn. Each student will be nurtured with rigorous and relevant 21st century-based instruction to foster life-long learning. This will be accomplished by a caring and encouraging faculty and staff along with parental and community support.
Lott Middle School History
Lott Middle School was built in 1948 and founded by philanthropist Rosa A. Lott.

The school is located in Citronelle, Alabama and serves grades 6-8.

Rosa A. Lott was born in Citronelle, Alabama where she spent most of her life. After graduating from high school, she continued her formal education at Alabama State Teachers College. Not only was she a great educator, she was a renowned humanitarian as well. Because of her love for and commitment to young people, she saw the need for a high school for black students in the Citronelle area. With the support of the community, she used her own money to travel on the Gulf Transport Bus month after month to the Mobile County School Board pleading for a high school for black students in Citronelle. It was largely through her untiring efforts that the Citronelle Consolidated School was built in 1949. She served as principal until her death in 1952. The school was renamed Rosa A. Lott in 1958 in honor and memory of her.